Let us make your dream garden become reality
Fisher Tomlin is one of the world's leading garden companies. We have won many international awards including nine New Homes Gardens Awards and Garden Designer of the Year.

Our design service
Every new garden design is individually created by our expert designers and is personal to the owner. The first step is for us to meet to discuss your requirements in detail and show you how, with inspirational ideas and creative design; we can transform your outdoor space. We will then create a 3 dimensional model of your garden so that you can easily see how the garden will work including level changes, relative heights of planting and trees and the views you'll expect from both within the garden but also you're your house. We'll then organise the construction of your garden with the care and attention it deserves.
Our construction service
Our professional construction service for private residential clients brings together an expert team of specialists with many years of experience. Our preferred contractor scheme means you get a recommended supplier for every element of your garden with great service and a quality finish.
Specialist elements such as garden rooms, gyms and offices, vegetable gardens can be custom made just for you at prices similar to off the shelf ranges. Swimming pools and tennis courts are finished to international standards. We use local and imported stone and sustainable timber to build beautiful outdoor spaces and trees and plants sourced locally to provide the best start in life.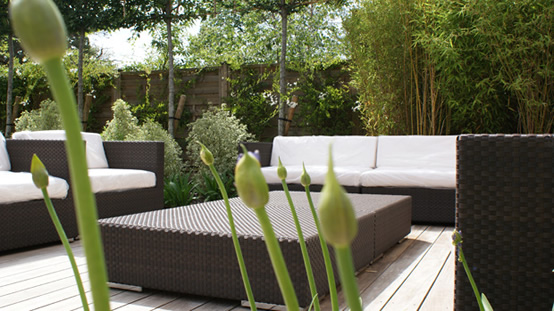 .

At all times during the construction of your garden we will be on hand to give our advice and ensure that the contract runs smoothly and your garden is built to the highest standards. And we can make sure that the garden continues to thrive by recommending expert aftercare.

Prices
We have always relied on our local knowledge and established local landscapers so that a garden from Fisher Tomlin is always affordable.

When we visit you to discuss your garden we will always give you an indication of what you need to spend before asking you to commit to a design. Our fees start at 15% of the cost of construction. As a guide a 3 dimensional computer model, master plan, planting design and being there for you during the whole of the construction period for a small London garden can start from as little as £750.



We include visits that many other companies charge extra for such as regular site monitoring and meetings with you so that you understand what is happening, regular update notes, the laying out of plants so that we maximise establishment, guidance on aftercare and a visit to check progress in the next growing season.

When you give us the go ahead we will always confirm our fees in writing. And when we have agreed the design and completed design drawings and specifications we will request prices from our recommended contractors and advise you on the best way to proceed. At all times during the construction we will be on hand to give our advice and ensure that the contract runs smoothly. And once your new garden is constructed we are here to help you with aftercare maintenance.

Our initial visit is normally free within London and the Home Counties. For gardens further a field including overseas please contact us as we may well be planning a visit to your region and will be able to visit at no cost.