Fisher Tomlin and Bowyer
We are a local garden design and landscape company based in Wimbledon. Our team of garden designers work in Wimbledon, SW19, SW20 and into Surrey as well as throughout London and the home counties and has been creating custom-made gardens for over 20 years to meet your individual needs and budgets. Our portfolio includes a wide range of garden designs and is not limited to one particular style. You might be interested in a traditional family garden or want contemporary space for entertaining. We'll work collaboratively with you, listening to your needs to ensure that the brief is clear and the garden successful.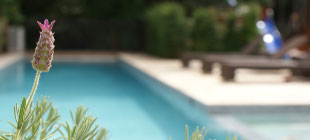 Andrew Fisher Tomlin and his team of
London garden designers
can help you create your ideal outdoor space. London gardens can offer some of the biggest challenges including shade from trees and buildings, lack of privacy and availability of space. You may be interested in making more of a small garden to give you a place to sit, relax and entertain or maybe you want to maximise a great lawn and equipment for children to play on; or maybe you need both! We specialize in clean lines, quality materials and year round planting interest and a garden that reflects your home to create a strong visual connection between the interior and your outdoors spaces. Because we are local to Wimbledon SW19, SW20 and Surrey our garden designers understand the soil and climate conditions that only local people would know. This knowledge is vital to the success of soil preparation and planting as much as it is to understanding local planning and conservation rules. We can show you how to fulfill all your requirements in a stylish and cost effective way including discreet lighting and custom-made screening, effective storage solutions, sculpture and water. And at our initial visit we'll give you ideas and budgets so that you are fully informed about the potential for your garden before you commission us to create a full garden design proposal.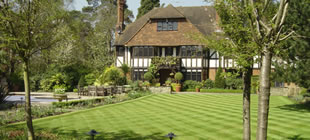 From our offices in Wimbledon and Surrey we are ideally placed to help you design your new country garden. Whether it's a small cottage garden or a large estate we are delighted to offer a free visit to discuss how we can transform your garden. Our garden designers can visit you in Surrey, Hampshire, Berkshire, Sussex and Buckinghamshire and further afield by arrangement. Many of the gardens created by our garden designers in Surrey and elsewhere use traditional materials with up to date ideas for a busy lifestyle. Our portfolio includes many modern country garden planting schemes that give year round interest with low maintenance. And in larger country gardens you need to understand the maintenance issues that might affect you and we show you how we can design low maintenance gardening strategies into your new garden. We'll give you simple plans and instructions to enable you to easily understand and undertake maintenance either by yourself or with the help of garden maintenance support.
Our garden designers in Wimbledon have created many family gardens but we're also well known for gardens in more unusual places such as London roof gardens. We have many years experience of specialist design of roof gardens for both residential and commercial buildings. These gardens often need the professional advice and the services of specialist services such as surveying and planning advice that we can offer.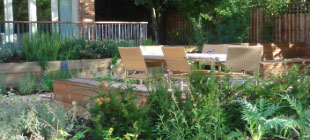 You want your garden constructed to the highest quality, which is why we work with some of the best specialist suppliers and landscapers in the industry to ensure that the journey from initial design through to the final completed garden is smooth, and to budget. Whatever your requirements Fisher Tomlin offer an award-winning custom-made service to meet your garden needs and budgets. For ideas of how to create the perfect new garden in London click on our Gallery above for some inspirational ideas.